Post New Article
---
M31 to Hit Milky Way Head-On
Posted by jmartin5

on 2012/6/14 11:54:30

(

186 reads

)
Astronomers have long known that the Andromeda Galaxy is headed our way. Now they've concluded that it most likely will collide with the Milky Way head-on — with dramatic consequences.

For rock-'em, sock'em cosmic action, you can't beat the collision of two galaxies. It's a scene that has played out countless times since the beginning of the universe. Our own Milky Way, for example, isn't the serene, stately pinwheel it appears to be. Over the eons it has gobbled up many close associates. In fact, right now the Milky Way is devouring a small system called the Sagittarius Dwarf Elliptical Galaxy, or SagDEG for short.Read More
Article ID : 69
Northwest Branch Public Library
Posted by jmartin5

on 2012/6/14 11:48:24

(

188 reads

)
Looking for something fun to do this Saturday night? How about a trip into space? And its Free!!
Join us for a star party at the Northwest Branch Library in Calallen, off McKinzie Rd. We will be giving a short presentation on the night sky, then its out to the scopes!! To see how much you learned!

Start time is 8pm, so don't be late!
Article ID : 68
Venus Transit June 5, 2012
Posted by jmartin5

on 2012/6/6 12:40:37

(

477 reads

)
The transit has come and gone.....it was a beautiful sight to see!! Galina opened up the observation deck at TAMUCC Science bldg for us. We used a couple of Coronado scopes, one of which was piggy-backed to a 7" Meade for tracking. We were able to get some photos with a Samsung digital camera and several phone cameras. Check out the pics in our photo album!

I had constructed a tripod set-up for a pair of binoculars, but, unfortunately, the south Texas wind chose to be uncooperative. It blew everything around, however, I was able to actually see the transit at one point before the wind destroyed everything. This set-up also allows for viewing the sun through binoculars. So, I will be trying this again to view the sun!! What was it Tim Allen said? "Never give up! "


Article ID : 67
Mustang Island Star Party
Posted by jmartin5

on 2012/5/26 13:11:27

(

214 reads

)
Kick off your Memorial Day Weekend with a star party!! Join us at Mustang Island State Park for some awesome stargazing tonight from 8-10pm. We will be set up in the Day use Parking Lot.

Hope to see you there!!!

Article ID : 65
Samsung camera - a work in progress.
Posted by stargazer1053

on 2012/5/22 7:10:00

(

294 reads

)


Saturn on the night of May 19, 2012



The Ghost of Jupiter

Both were recorded with a Samsung SDC435N video camera using a Meade LX200 10" Telescope.
Article ID : 64
May 20, 2012 solar eclipse
Posted by stargazer1053

on 2012/5/20 14:45:34

(

331 reads

)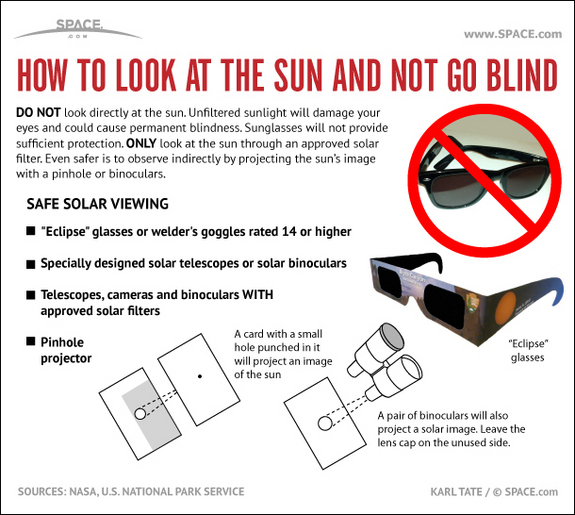 Source SPACE.com: All about our solar system, outer space and exploration


Solar Eclipse of 2012 May 21
Sun in Partial Eclipse at this Location
Delta T: 66.8s

CORPUS CHRISTI, TEXAS
Location: W 97°24'36.0", N27°45'00.0", 0m
(Longitude referred to Greenwich meridian)

Sun's Position Vertex
UT1 Altitude Azimuth Angle Angle
d h m s ° ° ° °
Eclipse Begins 21 00:37:42.4 6.9 289.3 277.3 214.3
Sunset 21 01:15 ---- 293.5 -----

Duration: 0h 37m 19.0s
Magnitude: 0.882
Obscuration: 82.2%
Article ID : 63
4,700 potentially dangerous asteroids lurk near Earth, NASA says Read more: htt
Posted by kmartin5

on 2012/5/18 3:40:00

(

261 reads

)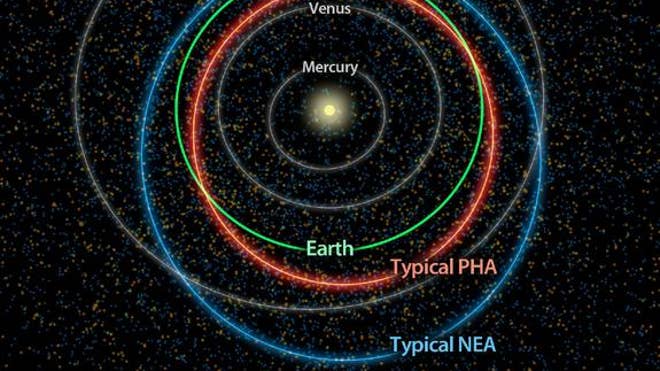 A new NASA survey has pinned down the number of asteroids that could pose a collision threat to Earth in what scientists say is the best estimate yet of the potentially dangerous space rocks.

The survey found there are likely 4,700 potentially hazardous asteroids, plus or minus 1,500 space rocks, that are larger than 330 feet (100 meters) wide and in orbits that occasionally bring them close enough to Earth to pose a concern, researchers said. To date, only about 30 percent of those objects have actually been found, they added.

Potentially hazardous asteroids, or PHAs in NASA-speak, are space rocks in orbits that come within 5 million miles (8 million kilometers) of Earth and are large enough to cause damage on regional or global scale if they were ever to hit our planet.

The new study was based on observations from NASA's Wide-field Infrared Survey Explorer (WISE), an infrared space telescope. While the telescope data returned an estimate of the potentially dangerous near-Earth asteroid population that is similar to previous projections, it also revealed some surprising new results.

Read more: http://www.foxnews.com/scitech/2012/0 ... -nasa-says/#ixzz1vERcTHZh

Article ID : 62
Four White Dwarfs Found Eating Earthlike Planets
Posted by jmartin5

on 2012/5/8 7:33:57

(

210 reads

)



It's no fairy tale: Four hungry white dwarfs have been found "snacking" on the shattered remains of Earthlike planets, according to a new study.

The findings foreshadow what might happen to our solar system when the sun dies in about five billion years, astronomers say.

As stars like our sun run out of nuclear fuel, they swell, becoming red giants. Astronomers think that when this happens to our star, its bulging atmosphere will engulf Mercury, Venus, and maybe even Earth.

Read More
Article ID : 61
Swantner Park and the Super Moon....
Posted by jmartin5

on 2012/5/6 9:00:00

(

237 reads

)
Last night turned out pretty interesting, despite the wind!! Thanks to Linda for showing up with her 6" homemade dobson. She did an awesome job!! Maria was on hand to help answer questions. And we had a lot of questions! Joey only took the 8" Orion due to the high wind gusts. But we still had some great views. The pictures in our photo album were taken with our cell phones, of all things!!! They still turned out pretty cool! Check them out!
Article ID : 59
Maintain By NovaSmart Technology . Visit NovaSmart XOOPS Module Development Site